New Kelowna tower proposal aims to build community from ground up
The One Water Street project, with its two highrise towers, has helped transform downtown Kelowna. It not only includes the city's tallest building (currently) at 36 storeys but it also includes the city's most expensive penthouse (still for sale) at $12 million. It was built by...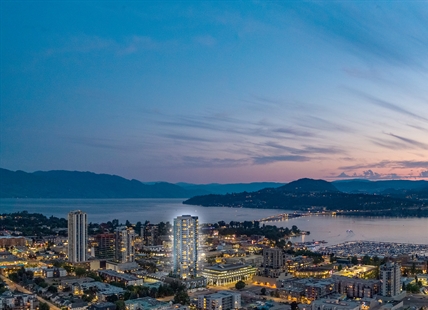 The One Water Street project, with its two highrise towers, has helped transform downtown Kelowna.
It not only includes the city's tallest building (currently) at 36 storeys but it also includes the city's most expensive penthouse (still for sale) at $12 million.
It was built by Chilliwack-based Kerkhoff Construction which is now planning to make as strong a statement a few blocks away with another 36-storey tower called One Varsity on the corner of Doyle Avenue and St. Paul Street, just across from the new 43-storey UBCO tower now under construction.
READ MORE: UBCO takes out record $262M building permit for downtown 'vertical campus'
"Our goal would be that this becomes one of those prominent street corners in the city, if not the most prominent street corner, because of the interplay with UBC," Shane Styles, president of Epic Real Estate Solutions, which is marketing the project, told iNFOnews.ca. "The reason Kerkhoff picked this site is because it can't be overstated what a university does to a downtown area."
Downtown university campuses are generally in major cities like Toronto, London, New York or Vancouver, not in smaller centres like Kelowna, he said.
"The other thing that is interesting is that it's not just 9 to 5 on a university campus," Styles said. "It's vibrant for 16 hours a day – night classes and day classes and workshops and special events. We're going to leverage off of that. That's one of the reasons we're putting a grocery store in. It just seems to be a perfect fit for that area."
But One Varsity, with 340 homes, is seen as more than just another highrise with commercial on the ground floor.
It's designed to be a neighbourhood all on its own.
"If you're not focused on trying to create a neighbourhood and community, I just think you're not creating homes and neighbourhoods that people are really going to want to be in," Sid Landolt, president of Next Generation Properties which is developing the site with Kerkhoff, told iNFOnews.ca.
"Quite frankly, when you go vertical in a highrise, it (neighbourhood) is very difficult to do and highrises can be some of the loneliest places on earth unless you purposely design, like we have, to create a vertical neighbourhood."
READ MORE: Kelowna's highrise skyline reaching 1,000 storeys and spreading out
That starts on the ground floor with not only a grocery store – something like an Urban Fare although the brand hasn't yet been selected – but other amenities.
"I can see, in the future, quite a waiting list to get into a building like this because it's not just going from the front door into the elevator and on to your home," Landolt said. "It's very intentional and it fosters social interaction amongst the owners and residents – at their option."
Landolt has sold about 30,000 condos all over the world, talked to many buyers and held focus groups on what people want and need in a home.
"It's one thing to have a list of amenities," he said. "It's quite another thing to plan them on how you move through the amenity areas and what is adjacent to each other.
"You'd be surprised by what rooms people love the most and the characteristics of them. We found that, where people have a chance to socially interact – either by walking from one area to another or the way we've made amenities adjacent to each other – it's those decisions that foster community more so than a list of amenities."
While some amenities will be on the ground floor, many will centre on the sixth floor.
"Everyone has different interests," Landolt said. "When you think about your amenity it's not simply that 'here's a gym' but 'here's a gym and here's a yoga studio for some outdoor fitness', if that's what you like.
"And then you have people who are: 'I'm not into fitness but I need a co-work space.' We have a co-work space. There's board rooms, desks if you wish. Zoom rooms. Pet centres, both indoor and out. And then we have the whole outdoor amenity so that it feels more like a back yard than simply a pool and a concrete deck.
"How you do all your plantings, your seedlings, how you organize people to interact with one another, all of that is thought through in the building that we put forward."
There will be things line a "brain box" for brainstorming, big screen TV room, fully soundproof podcast rooms and even a bulk laundry room since each unit comes with only a small washer/dryer.
Prices will start in the high $300,000s for a smart studio, Styles said.
"Those will be integrating all these cool built-ins so you can make a small space be really functional where you have a Murphy bed that folds up into a desk or a desk that turns into a dining room table," he said.
While there will be penthouses, they are not in the realm of One Water Street, likely selling for less than $2 million each.
While it will be across the street from the UBCO campus, this is not student housing, although that's always possible.
For example, Styles talked about clients who have teenage children that they're looking at buying condos for in order to get a foothold in the market.
One couple was torn between Surrey Centre and Kelowna so he asked them where they would rather be in five or 10 years.
"Invariably the answer was 'I want to have a home in Kelowna in five to 10 years,'" Styles said. "Nothing against Surrey. I'm not beating up on them but that's what we're seeing. They're staking a place here. They've got plans to be here a bit of the year. They like the idea of using their home for a few months then maybe some semester tenants.
"We're one of the fastest growing regions in the nation. By all accounts, that's not going to change. People want to be here."
The building still needs to get a development permit from the city. The goal is to start marketing the units this fall and open in 2027 around the same time as UBCO.
"With the UBC campus, it is clearly going to be a new centre of the city," Landolt said. "Any time you bring that kind of energy – educational, cultural energy – into one area, you create almost a new precinct within the downtown."
---
To contact a reporter for this story, email Rob Munro or call 250-808-0143 or email the editor. You can also submit photos, videos or news tips to the newsroom and be entered to win a monthly prize draw.
We welcome your comments and opinions on our stories but play nice. We won't censor or delete comments unless they contain off-topic statements or links, unnecessary vulgarity, false facts, spam or obviously fake profiles. If you have any concerns about what you see in comments, email the editor in the link above. SUBSCRIBE to our awesome newsletter here.