Volunteers picking up pieces after Vernon SPCA's withdrawal
Local rescue organizations are preparing to step up and close the gaps now that Vernon SPCA Animal Centre has announced its closure. "Whenever one rescue organization closes, the others have to absorb what they were doing," Michelle Wandler of Kelowna Kitten Rescue, says. "The fact...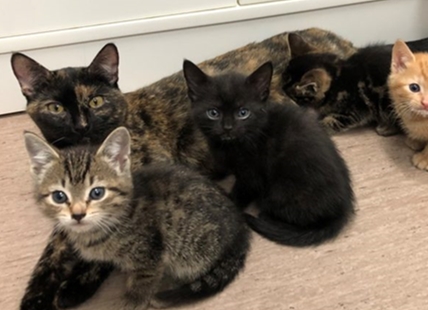 Local rescue organizations are preparing to step up and close the gaps now that Vernon SPCA Animal Centre has announced its closure.
"Whenever one rescue organization closes, the others have to absorb what they were doing," Michelle Wandler of Kelowna Kitten Rescue, says. "The fact is they have a shelter and none of us do, so they were effective in that they were able to act quickly where we have to drum up foster homes to get animals into safety. But in saying that, the SPCA mostly focuses on bringing in cruelty cases so we're noticing a lot less of other animals being rescued and sheltered at the SPCA."
"They do a lot less within their communities than you would think."
While Vernon's SPCA shelter helped rescue animals from cruelty cases, they had limitations.
"There might not be as much of a gap as people think because I'm not so sure that the SPCA was taking that many animals from that community anyways based on the number that we are getting from that area," Romany Runnalls, volunteer president of the Okanagan Humane Society, says. "We have been taking animals that the SPCA has been saying no to and they have been saying no a lot, they also just have been shutting their doors; we had a five-month-old pup last week that was rescued, that was in extreme pain and it was driven to the Vernon SPCA but it was closed…it was eventually brought to the Okanagan Humane Society."
These local volunteer rescue organizations say because they do not have shelters and rely on foster homes, there might be a need for more fosters and funding, but ultimately the closure of the Vernon centre will not cause much of a dent because fosters and funding are expected to increase.
"We're definitely going to need a greater capacity for rescuing stray and feral animals from the community… as long as we have enough fosters and funds we can handle the capacity, and we should be able to given how many animals we have been seeing and people literally telling us 'the SPCA is saying no, the SPCA has told us to call another organization' and a lot of them already call us," Runnalls says.
If anything, the closure might show smaller volunteer organizations have taken on a more important role in attending to surrendered and feral animals.
These smaller organizations are disappointed by the sudden closure, but they have never relied much on the SPCA and reveal that their relationship is mostly nonexistent.
"Ultimately, other than receiving animals that the SPCA has directed towards us, we have not collaborated much with the SPCA," says Runnalls.
"About four years ago there was a coalition in which we worked with the SPCA to spay and neuter cats, but we haven't worked collaboratively with them since, so their closure probably won't affect us that much," says Wandler. "Honestly, there are a lot of sour grapes between the SPCA and us right now, and almost every rescue feels that way, I don't know a rescue that doesn't feel that way."
Adrienne McBride, the BC SPCA Senior Director, confirms that there is not much to worry about because the presence of the SPCA in Vernon will remain despite the Animal Centre closing.
"I think animals are going to end up being better served without the building; we're going to have animals in foster homes in the community which is always a better place for an animal who has just lost their home. The money we were spending on the building to keep it in an operable state we can now spend on community resources and programs to support keeping pets with people so that the ultimate goal of no longer needing an animal shelter can come to fruition faster," McBride says.
While organizations have pointed out a certain lack of involvement in sheltering surrendered and feral animals, McBride wants to remind the community that the BC SPCA plays a bigger role in animal welfare and assures locals that this role will remain in place.
"Serving the community's most vulnerable animals is our goal and we'll continue to do that just as we always have," McBride says. "Our animal protection officers are still going to be active in the Vernon community, investigating cruelty and neglect. Our human education program is also going to continue, our outreach programs will all remain. The only change is that we won't have a physical space in Vernon anymore but the way that we serve our community and our commitment to animals in Vernon and the Okanagan remains the same. Ultimately, our animals are going to be better served by us closing our doors and reinvesting our money otherwise."
The Kelowna Kitten Rescue and the Okanagan Humane Society are two non-profit organizations that work towards finding foster homes for animals who are feral or have been surrendered. They work closely with veterinarians in the region to get healthcare for the animals when needed, especially for spaying and neutering purposes.
---
To contact a reporter for this story, email Gabrielle Adams or call (438) 830-1211 or email the editor. You can also submit photos, videos or news tips to the newsroom and be entered to win a monthly prize draw.
We welcome your comments and opinions on our stories but play nice. We won't censor or delete comments unless they contain off-topic statements or links, unnecessary vulgarity, false facts, spam or obviously fake profiles. If you have any concerns about what you see in comments, email the editor in the link above. SUBSCRIBE to our awesome newsletter here.