Getting better after COVID-19 isn't so simple for some Okanagan residents
It was a year ago this week that John Thiessen was loaded into an ambulance, and said what he feared would be his last goodbye to his loved ones. The Kelowna man had suffered what doctors told him later was a "COVID heart attack," though tests for the disease taken in the early days...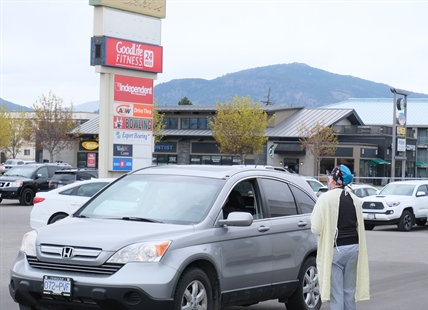 It was a year ago this week that John Thiessen was loaded into an ambulance, and said what he feared would be his last goodbye to his loved ones.
The Kelowna man had suffered what doctors told him later was a "COVID heart attack," though tests for the disease taken in the early days of the pandemic came back negative, his symptoms aligned with the disease.
"A test back then, they were relatively new to the market and weren't exactly 100% proven to be positive or negative at the time, and I think I had a couple negative positives," he said.
Also, he and his wife had all the symptoms.
"My wife caught it before me, and she was at home quarantining, and I believe I caught it from her at that time," he said. "She was in the bedroom, I was in the living room and our 23-year-old son was taking care of us going back and forth. He never got sick— thank goodness."
His wife ultimately had a full recovery, though suffered a lot of hair loss that is only recently coming back.
"Because I was predisposed with heart disease and diabetes, it hit me a little bit harder," Thiessen said, noting that the illness was psychologically, mentally and physically damaging.
"It wasn't a fun place to be. You know, number one, you're at home for a period of time and you're quite sick. Your senses are gone. There's no taste, there's no smell, you're emotionally spent so you're crying and just in a disarray of mindset. You're trying to eat, you're trying to gain strength and there is no strength to be gained, so you're sleeping a lot."
Some days, he said, the only thing he could manage was to get up and go to the washroom.
"It got to a point where I'm so sick that I've got to go to the hospital," he said. "I didn't want to, because I thought when I got into the ambulance, and I looked at my family, how am I going to see them again?"
Going to the hospital under normal circumstances is one thing, but when COVID first hit there were no visits. Even within the hospital, patients couldn't mingle.
"So it was me, myself and I surrounded by people in PPE, so it was like a movie," he said. "I was taken into an ambulance to the hospital, and it's not like a normal hospital, everything is cordoned off, there's these plastic sheets everywhere — it was scary."
Thiessen said when he was admitted, they said he had a COVID-related heart attack, which was bad enough but it was underscored by the fact that the dialogue outside the walls of the hospital was whether the disease was even real.
It was surreal.
After 10 days Thiessen was released from the hospital.
"I was still extremely weak. I had trouble getting up from the bath, or from the bed and going into the washroom," he said, adding that even something as simple as a shower was a half-day chore.
Some days, all these months later, it's not much better.
"I have a very good relationship with my doctor, she has done a very good job of listening," he said.
But there isn't a lot known about what's going on with people who have long term struggles related to the disease.
"I'm 58 years of age. I understand what lazy is, I understand what tired is, this is neither of those," he said. "This is, 'I can't move. I can't stand up for longer than 10 minutes. if I do stand up and walk somewhere, I have to take about two minutes to sit up from the lying position. And then I have to take another two minutes to stand up and hold onto something so I know I'm not going to fall."
His healing process is something he describes as "inconsistent."
"A lady who started the COVID long haul group contacted me because she found out about my Okanagan Facebook COVID group, and we compared notes etc. and she's experiencing the long haul experience as well," he said. "She asked me to become an administrator with her group as well. So I've done that for the last six or seven months and I've just learned so much. There are so many other people that are experiencing the same sort of things."
Elaine Dierk, from West Kelowna, has had a similar journey that started March 12, 2020 when she woke up with a fever and sweats.
Months later she was still having breathing and joint issues.
"The best way to describe long haul COVID to me, is there's a little terrorist in your body, and they go from head to toes, setting off bombs," Dierk said.
"There are so many symptoms attached to this. Those of us who are long haulers… if you have underlying conditions like me, who has GI issues, it has really intensified things," she said. "My osteoarthritis is bad. All my joints have been infected. All of it cycles and other symptoms come in and it's non stop."
Like Thiessen, she is mindful of overdoing it and finds herself spent after activities she once took for granted.
She's also very aware of the idea that some people still don't take it seriously enough.
"I would say there are different roads this will take, the first one if you're lucky is you're going to be very very sick for one to three weeks, then you will be better and you can go along with your life," she said.
"The other scenario is you will be sicker, in the hospital or you could die, and the other scenario is the long haulers. We don't know what the outcome of this will be."
Through her interactions on the long hauler Facebook page she knows there are thousands of Canadians walking a similar path to what she's embarked on.
"But this is all over the world," she said.
The provincial health services authority is aware of long haulers and started a Post COVID-19 Interdisciplinary Clinical Care Network in April 2020, and formalized in the fall of 2020.
"The Post COVID-19 Interdisciplinary Clinical Care Network includes clinicians, academics, and patients who provide leadership to the post COVID-19 recovery clinics by strengthening collaboration, developing best practices, and enhancing access to care," they say on their website.
PHSA provides provincial oversight and support to the network.
"We are still learning about long-term outcomes for patients who have had COVID-19, but we know that for many it's a 'long haul,'" they said.
"Experts are noticing around the world that multiple organ systems in the body are affected by the virus, and that those effects can persist over time."
As such they aim to provide patients who have been infected with COVID-19 and who experienced serious disease with the care and support they need to manage their condition over time.
As of February 2021, there are three post-COVID-19 recovery clinics in B.C. and they are all in the Lower Mainland.
Patients must be referred to a clinic by their primary care provider, using the post-COVID recovery clinic referral form. The clinics are only able to accept patients who have had a positive COVID-19 swab or a positive serology test. But, for those who were sick during the early stages of the pandemic, between January and May 2020, and did not have access to a COVID-19 test, they will accept your referral.
---
To contact a reporter for this story, email Kathy Michaels or call 250-718-0428 or email the editor. You can also submit photos, videos or news tips to the newsroom and be entered to win a monthly prize draw.
We welcome your comments and opinions on our stories but play nice. We won't censor or delete comments unless they contain off-topic statements or links, unnecessary vulgarity, false facts, spam or obviously fake profiles. If you have any concerns about what you see in comments, email the editor in the link above.