THOMPSON: Reflections on becoming an 'old man'
  OPINION Last month I turned 73 years old. Just to be clear, I don't consider that number particularly old. Of course, when my dad was 73 - and I was 37 - honestly, I referred to him as "Old Man"...a term of endearment and something he actually liked. My problem is…I really did...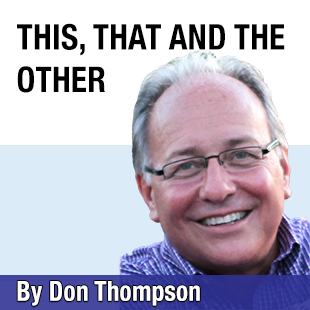 ---
OPINION
---
Last month I turned 73 years old. Just to be clear, I don't consider that number particularly old. Of course, when my dad was 73 - and I was 37 - honestly, I referred to him as "Old Man"...a term of endearment and something he actually liked.
My problem is…I really did think he was old…and I sort of…kinda…think of myself today at the same age…as middle aged. Why is that? Oh, yeah…quite possibly denial.
Actually, I'm starting to look, sound and act more like my dad. Normal, perhaps, and I think that's a good thing…because he was one of my heroes. I remember sometime in his early 70s my dad as he slowly got out of a car, said, "Hold on, I'm just waiting for my ass to catch up."
I remember always laughing at his dry humour. But now I know what he meant. My ass never feels like it gets out of a car at the same time as the rest of me. Trust me, you'll have to wait until you're in your 70s…if you're lucky.
Getting old shouldn't be a laughing matter. But to tell the truth…it often is. I remember in the mid-1970s laughing about Tim Conway's old man character on "The Carol Burnett Show"…a white-haired old dude who muttered and shuffled at a pace that not even a snail would envy. I was 26…old wasn't just funny…it was hilarious.
I no longer laugh much about old folks on television…I tend to see too much of myself. Tim Conway's shuffle seems…well, almost restful….and about the right pace most times. Besides, a few weeks ago at one of my grandson's "away" hockey games in Lake Country…I didn't know whether to get a running start to climb the bleachers…or settle for the first row. Finally, someone half my age reached down and pulled me up to the third row. I didn't laugh.
While it's a fact I can't do with ease what I did when I was in my teens, 20s, 30s…or even 40s, I'm not ready for that walker with the ridiculous tennis balls on the front legs. After all, I umpired about 30 baseball games this past Summer…at least half behind the plate…doing a couple hundred squats in two hours.
What I've noticed is that I don't do anything as fast and with the reckless abandon that I once did. And maybe that's not all bad. I've always shopped for groceries…ingredients for the rather serious cooking that I love. I used to breeze through stores.
These days, I tend to take my time…and I rarely arrive home without all the ingredients I need. If I see someone behind me with four items at checkout…"Hey, why don't you go…I'm in no rush." Maybe I observe life more fully…a quality over quantity sort of thing.
I don't worry so much about the world passing me by…but I think about it. That's why I try my best to keep up with the latest technologies. That said, I wonder when I'll have to text - no calls please - my grandchildren to help me find a Netflix movie. Also, I pay for things with my iPhone…not so much because it's easier…more to show I'm still with it.
I'm even thinking about getting off Meta…Facebook for those who might have missed the name change two years ago…simply because no one under 60 uses that platform unless forced.
I nod knowingly when younger folks talk about topics on Instagram, TikTok or Snapchat…and on occasion pretend to know celebrities that people in their 20s and 30s follow obsessively. Sadly, trying not to appear old takes more time than it should…and it's perhaps aging me even more.
Actually, I know now - and probably always have - that it makes sense to be happy with your current age, whether 16 or 90, or somewhere in between. There's nothing sillier than someone old trying to act way younger, or vice versa.
Every now and then, someone thanks me for some perceived wisdom, appreciates my experience or outlook on life. Whether they're young or old…that makes me feel good…relevant. Who doesn't want that?
Besides…I have what those in their 20s can only dream of…grandchildren.
— Don Thompson, an American awaiting Canadian citizenship, lives in Vernon and in Florida. In a career that spans more than 40 years, Don has been a working journalist, a speechwriter and the CEO of an advertising and public relations firm. A passionate and compassionate man, he loves the written word as much as fine dinners with great wines.
---
We welcome your comments and opinions on our stories but play nice. We won't censor or delete comments unless they contain off-topic statements or links, unnecessary vulgarity, false facts, spam or obviously fake profiles. If you have any concerns about what you see in comments, email the editor.