YO MAMA: Cherry pit terror
  OPINION The cherry tree was just a short walk from our campsite. It was early July, and the cherries were perfect. Picked fresh off the tree, they were sweet and warm. It was like popping distilled Okanagan sunshine into your mouth. Nobody enjoyed the tree more than our 15-month-old...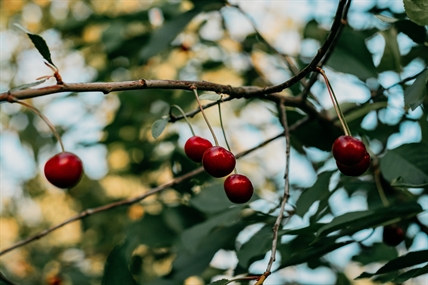 ---
OPINION
---
The cherry tree was just a short walk from our campsite. It was early July, and the cherries were perfect. Picked fresh off the tree, they were sweet and warm. It was like popping distilled Okanagan sunshine into your mouth.
Nobody enjoyed the tree more than our 15-month-old son. He was fresh off saskatoon berry season and primed for foraging. "NUM NUM," he proclaimed during our first stroller walk around the campground. The little crimson baubles were like festive decorations on a summer Christmas tree.
Because he was still at risk of choking, we were very cautious with things like grapes, cherry tomatoes and of course, cherries, always painstakingly cutting them in half and removing dangerous pits. Stone fruit season in the Okanagan was both a blessing, and a curse.
With no knife or chopping board handy, my husband and I bit off little half-chunks of cherries for our son. We gobbled up the pit-sides ourselves, barely getting another ready before our son demanded more. We worked out a tag-team system where we took turns preparing the kid's next cherry.
Around the middle of our trip, we were back at the tree, casually snacking when I saw a motherload of juicy red cherries near the top of the tree. We were at the point where we needed to move into uncovered territory. The so-called low-hanging fruits were all gone.
I put our son down so that I could climb onto my husband's shoulders to get the cherries. The kid sat happily in the grass and watched our stunt with interest.
I picked them all. By the time I scrambled back down, I had a good dozen tucked into my shirt. We sat down on the grass to feast when I noticed our son was looking at something in the palm of his hand. It looked like a little pebble. Mom-brain alarm bells began blaring in my head.
UH-OH MAYDAY CHOKING HAZARD.
I rearranged my panic-stricken face, took a deep breath and calmly asked my son to show me what he was looking at. I knew if I showed any indication that it was an illicit object, he would never hand it over. Worse, he would probably hastily shove it into his mouth without a second thought.
He held it out for just long enough for me to see that it was a cherry pit before a wicked little grin spread across his face and he popped it into his mouth.
"NOOOOO SPIT THAT OUT RIGHT NOW!"
I knew from taking baby first aid that you weren't supposed to fish around in their mouths for chokeables because you might inadvertently pushed it down their throats.
"Can mummy look in your mouth?" I asked.
He smiled demurely.
"Did he swallow it?" my husband asked.
"I don't know, I don't have x-ray vision," I snapped.
With horror, I suddenly realized the ground was littered with the cherry pits we'd been spitting out for the past three days. We'd been so careful not to let our son consume a whole cherry that we'd failed to notice the minefield at our feet.
"Did you eat more cherry pits?" I asked him.
He just looked at me blankly, then pointed up at the tree and said, "num nums!"
Back at our camper, I Googled "what to do if toddler eats a cherry pit." I was worried he might develop some kind of intestinal blockage if he was unable to digest the pit.
The first link that came up was Ontario Poison Control. That didn't sound good. I scrolled through scary warnings about children ingesting cannabis and cleaning supplies, but nothing about cherry pits ever turned up. I moved onto the next search result, an article on Healthline. It explained that cherry pits contain a chemical called amygdalin, which your body converts into the toxic compound hydrogen cyanide.
Wait… CYANIDE? Like, the stuff of assassination attempts?
LINK TO ARTICLE: https://www.healthline.com/nutrition/cherry-pits#what-to-do-if-swallowed
Reading on, I learned that cyanide causes problems with oxygen transport, which can wreak havoc on essential organs like your brain, heart, and lungs.
I glanced over at the kid to assess his condition. He was playing contentedly with a stick.
The article went on to explain how much cyanide was poisonous as per a person's body weight. I was trying to do the mental math of how many cherry pits it would take to kill a baby when I got to the part, near the end of the article, that stated:
"It's not a cause for concern if you or your child accidentally swallows just one or two cherry pits."
I breathed a sigh of relief and hugged my boy.
I monitored him closely for the next couple of days, checking his dirty diapers to see if the pit made it through, still worried about a possible colon obstruction.
Eventually, the pit did come out, and I was so gosh darned happy to find it that I ran around showing all our camping companions. I couldn't believe something as tiny as a cherry pit could cause so much stress.
"No more eating cherry pits, do you understand me?" I told my son.
"Num num!" he said with a huge grin, blissfully unaware of the whole ordeal.
— Charlotte Helston gave birth to her first child, a rambunctious little boy, in the spring of 2021. Yo Mama is her weekly reflection on the wild, exhilarating, beautiful, messy, awe-inspiring journey of parenthood.
---
We welcome your comments and opinions on our stories but play nice. We won't censor or delete comments unless they contain off-topic statements or links, unnecessary vulgarity, false facts, spam or obviously fake profiles. If you have any concerns about what you see in comments, email the editor.